Fall's almost here! You have no idea how happy that makes me. If you could see my happy, it would be terrifyingly large, like one of those big T-Rex statues at a natural history museum. That's right, I'm so happy today it's kinda scary. Here's what's making me happy this week:
I may live in a podunk town where not much happens, but I feel so blessed to live on property where I can take my kids out to see their granddaddy's garden full of pretty pumpkins and fodder shocks, or where I can open up my door and look across the road to see heavenly sunlight beaming through the trees.
What's making you happy today?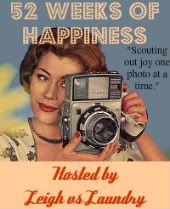 Until next time, may you be blessed - and inspired to pass it on!